Our Mission at Alive Colon Hydrotherapy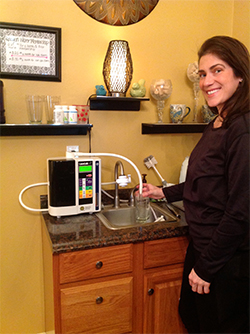 It is our mission:
Education – to equip you with as much knowledge about your potential for health as we possibly can.
Nurturing – to provide a warm and caring atmosphere where your health goals can be discussed without judgment
Coaching – to create an attainable plan for getting your gut cleaned out and making your health goals possible.
My name is Tracy Samson and I understand that your health is important to you. I go to great lengths to ensure that you have ameaningful experience at Alive! so that you can begin your journey towards a healthier you!
At Alive! we have a variety of services and offerings to help you achieve your health goals. Whether you are looking to lose weight, detox, or alleviate some very specific health issues, we are here to help.
---
We offer:
colon hydrotherapy,
nutritional and life coaching,
cooking lessons,
detoxification classes and programs,
and a variety of other tailor made programs specifically suited to you.
Having travelled myriad roads to finally achieve a state of happiness and health I can understand how frustrating it is to attempt one thing after another without the results you are looking for. At Alive!, we have an extensive intake process so that we are able to ferret out what the real issues are and how to resolve them together.
We are here to support, listen, and motivate you so that you can start enjoying your life and stop worrying about the things that are holding you back from your healthiest, happiest, most fulfilled self.
Please call us anytime so that we can take the first step on your path to happiness and health!!